Disclosure: As an Amazon Associate I earn from qualifying purchases by providing links to Amazon for recommended products.

Product Name: Hydrow Rowing Machine
Rating: 4.8/5
RRP: Click to check price
Special Offer: Save $200 when you sign up for Hydrow 's email list at hydrow.com (scroll down to the bottom right corner of the homepage & enter your email to get a coupon code for $200 off)
Rowing is an excellent sport that helps you engage a huge range of upper and middle body muscles. However, the problem with rowing is, you need to pack your kayak or boat and head towards a river every weekend at best. This can be quite impractical in our fast-paced lives. If you want to get the benefits of rowing without heading to the river or ocean every couple of days, then a rowing machine is your best bet. In the following article, I'll provide you with an honest and thorough Hydrow Rower review.
What Are the Pros of the Hydrow Indoor Rowing Machine?
The Hydrow rower offers a wide range of features and advantages that makes it a great home workout machine. Let's have a brief overview of some of these features.
Durable and Impressive Design
Let's start with one of the first impressions that you'll get about the machine. As you know, any sporting device is no use if it lacks the integrity needed to support its frame.
From the first look at the Hydrow Rower, you'll notice that it has a sleek, stylish design that would complement any internal home decoration or workout space you have.
The best part is that this nice design is also extremely durable and can handle a lot of weight and pressure. In fact, the device can tolerate a total maximum weight of about 375 lbs.
All that thanks to its single-piece steel and aluminum frame as well as its anthracite polymer body.
In addition to the main body frame, all the handles and joints of the unit are designed with great care for smooth gliding and cutting edge sturdiness.
The device also has rubberized feet to keep your floor protected from scratches no matter how much weight you put on the device.
Comfortable Seating
Besides durability, the device is also highly comfortable and easy to use.
Both the handles and the seat are designed with the body contours in mind. This allows you to use it for a longer time without fatigue or body aches!
HD Touchscreen Monitor and Companion App
One of the best things about the Hydrow Rower is its touch screen monitor. The rowing machine is equipped with a 22-inch screen that has 1920 x 1080 Full HD resolution.
This screen gives you absolute full control over the device. The huge touchscreen can be adjusted to suit the level of your head for comfortable viewing.
This screen will also allow you to monitor stats like heart rate without having to break the rhythm of your workout.
Moreover, you'll be able to access HD workout videos through this screen, but more on this later.
In addition to the touch screen, the device can be linked to a proprietary app that you can use with ease. Using this device you'll be able to access all your workouts wherever you are!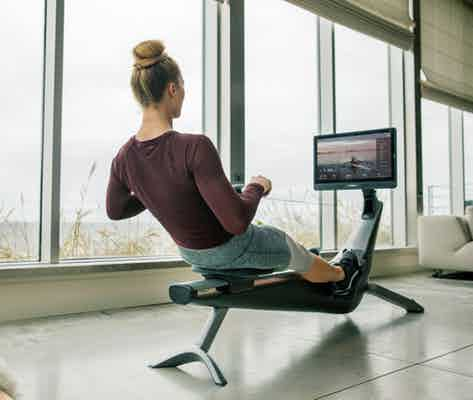 Interactive Workouts with Real Professionals
One of the most brilliant highlights of the Hydrow rower is the Hydrow Membership program. This feature is what sets the Hydrow Rowing Machine apart from other rowing machines on the market.
By subscribing to the Hydrow membership program, you'll be able to access a huge library of videos and live streams that will add extra spice of engagement to your workout. If you're familiar with the Peloton bike, than you'll have seen how this works – Hydrow are bringing the same interactivity to a rowing machine.
The Hydrow program contains various types of videos, including whole-body fitness workouts, serene river rowing, and rows on demand.
You'll be able to pick your scene from a library containing over 500 pre-recorded rowing sessions from rivers and studios by world-class rowers.
In addition to pre-recorded videos, you can also enjoy live streams and rowing classes that run on a flexible schedule.
These videos suit every level of rowing skills, so you can match your level or try to up your games.
Another cool thing about these interactive workouts is that you can enjoy unlimited users through a single membership. In other words, all members of the family can hop in and go at their own pace!
Excellent Muscle Engagement
According to research, your body will engage more muscles while rowing than any other form of exercises, such as running and cycling.
The Hydrow Rower is designed to give you an excellent body engagement level. In fact, the company claims that your machine will engage 86% of your body's muscles in the workout. Using the machine will give you a substantial amount of strength if you train daily.
In fact, a lot of medical communities believe that rowing is one of the best methods to burn calories as well.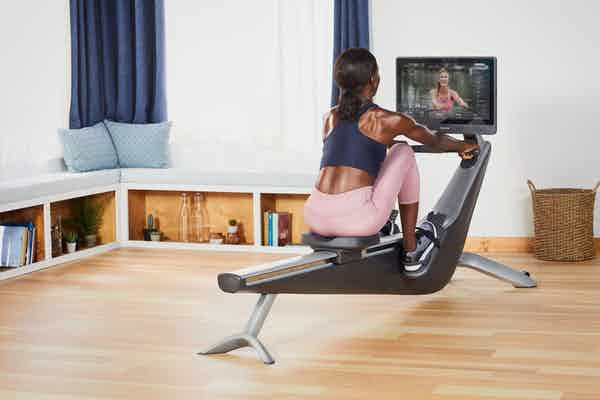 Advanced Magnetic Resistance System
Most rowing machines on the market use chains to create resistance. However, the Hydrow Rowing machine uses an impressive electromagnetic resistance system along with fabric belts that promotes a smoother operation.
This gives you a more authentic sensation of rowing on a real boat. Additionally, the system makes the machine incredibly silent when compared to some options out there. This will enable you to row silently without disturbing your household.
Supportive and Interconnected Community
In addition to the tons of videos presented by world-class rowers from all over the world, you'll also get to interact with all the Hydrow users' community.
This gives you the chance to find a rowing buddy, which is also an excellent way to make a friend in real life too!
Moreover, you'll be able to compete with other Hydrow users, which can motivate you to bring the best out of yourself.
Features a Risk-Free Trial Period
It's frankly quite impressive that a product that costs over 2,000 bucks comes with a 30-day trial period.
This gives you a risk-free hands-on experience. Also, it shows the level of trust that Hydrow has in their rowing machine!
Generous Warranty
It might not be the best warranty system out there, but it's great enough to know that your products are backed by a decent after-sales service.
The product includes a 6-year warranty on the rower's frame, 2 years on the HD monitor, as well as 18-month warranty on labor!
Additionally, the company has 2 years of warranty on all electronics, and wear items. This includes the strap, the seats, the handles, and the hinge.
Philanthropic Gesture
In addition to the tons of videos and live streams to motivate you to stay consistent, you'll also be doing it for a good cause. For every 60 days you row, the company will donate in your name to water.org
Try the Hydrow for 30 days RISK-FREE!
What Are the Cons of the Hydrow Indoor Rowing Machine?
Despite all its merits, the device still has its drawbacks that might make you reconsider your decision.
Here's a list with some of the problems that you may (or may not) find bugging about the Hydrow Rower.
Premium Price Tag
One of the major problems with this rower is its price. The unit only costs about $2,245. However, Hydrow offers different systems for payment. Visit the following link to find out more:
Financing able and as low as $62 per month for the Hydrow Rower!
Subscription Fees
To make matters worse, the huge initial price doesn't include lifetime access to its Hydrow on-demand workouts and streaming program.
Without the subscription, the machine has no workout presets or onboard programs to use. Instead, you'll be using it as a bland rowing machine that costs a fraction of its price.
So, you'll have to consider the continuous payments of the subscription fee among your budget, which is about $38 a month.
Media Adjustability Issues
Despite having an impressive screen with front-facing quality speakers. The screen can be a bit counter-intuitive when it comes to adjustment.
Unfortunately, the screen doesn't have an option to turn the high volume or pause the videos midplay.
Lacks Third-Party App Support
Although you can use the Hydrow app to access certain features of the rowing machine, you won't be able to pair the machine with other health apps, such as Samsung Health, Apple Health, or Google Fit.
The Upright Storage Kit Isn't Free
The Hydrow Rower is a large machine with about 86 inches long and 25 inches wide dimensions. Additionally, when the machine is fully assembled, it can weigh as much as 145 lbs, which is quite a lot.
The size of the rowing machine isn't usually a problem if you can eventually fold it vertically when not in use, which is the case in the Hydrow Rower.
However, to do this, you need a special upright storage kit that costs extra bucks, which is problematic considering the already-expensive price of the main unit.
Wrap Up
Rowing is getting a lot of attention recently for being one of the most underrated sports out there. However, it's one of the best full body exercise machines you can find – even better than the treadmill or spin bike. See how it compares to another top connected rowing machine – the Ergatta.
As you can see from our Hydrow rowing machine review, this exercise machine offers an incredibly immersive indoor rowing experience that will keep you motivated and help you make the most out of your rowing workout. If that's what you're after, then the machine is worth every penny.
Always remember that rowing workouts are known for their high intensity. Make sure that you consult your doctor or physical therapist before making the final decision on whether a rowing machine is for you. Moreover, always make sure to do some stretching before you hop on the machine.
No Money Down & 0% APR Financing on the Hydrow Rower!