Disclosure: This post contains affiliate links, meaning when you click the links and make a purchase, we may receive a commission.
A personalized approach is the best way to get the optimum results with any goal you undertake. Personalizing a workout routine or diet plan is easy. When it comes to supplements though, brands will often force down your throat "one-size fits all" products. The idea behind Gainful is to fill this gap with personalized protein powder – a blend that's tailored to your fitness goals and body type . This Gainful Protein review examines whether the product lives up to the expectations and whether or not it's worth the trying (if you're already a protein powder user I think you're going to love this!)
Gainful protein powder review
Save 10% with code TAKE10OFF
Mission – What the company have set out to provide
The mission of Gainful, according to their website is to help people reach their health goals. They aim to be complete and transparent about what is included in the protein powder to differentiate themselves from other misleading marketers. The company also seeks to provide expert guidance to its customers at no extra cost.
According to the company, Gainful Protein cuts through the generic-flooded market with clean ingredients that are mixed up in the right ratio for you. Customers can see what their particular blend contains. Users are free to personalize the product by choosing what to include and what not to from a list of ingredients.
Dieting algorithm – Take a quiz and find out which protein is for you!
The company promises that by taking a 2 minute quiz at the point of purchase, customers will able to personalize their protein powders. You state your goal, which can be losing weight or building lean muscle. You also say whether you are vegan, lactose intolerant or a meat person. You can also state if you're gluten free, keto dieting and more.
Their algorithms will calculate the correct ratios and type of ingredients necessary to reach your goals from this data.
The powder is designed to work according to your age, gender, body type, your physical activeness and fitness ambitions. This degree of customization fills a gaping hole in the market, and is something brand new that isn't available anywhere else!
Want to try the quiz for yourself to see what blend they recommend?
Delicious workout shakes, made especially for you. Take the quiz today to find your blend.
(It'll take less than 2 minutes!)
What to do next?
The website has substantial information on how the powder works and how to get your hands on it. There are YouTube instructional videos, and other materials detailing the itsy bitsy details of the product.
When you are satisfied that the protein powered is the right blend for you, you will be required to take the quiz to purchase — this where you provide your bio information and fitness goals. From your tastes and preferences, and fitness ambitions, Gainful will produce a mixture of protein they say is suitable just for you.
At the end of the quiz, you will see a Nutrition Facts chart created from your information. The chart will list the ingredients recommended for your lifestyle.
Does Gainful Protein live up to the hype?
It certainly appears that the product has had a positive reception on the market. What people like the most about Gainful Protein powder is the product packaging and the ability to customize your flavor and ingredients. The other perk is that customers get a quick and free consultation service from qualified dieticians.
The company has excellent ratings – 5 stars on Trustpilot and Gainful is rated 4.7 out of 5 on Facebook.
Although it is still a relatively new company, it is definitely starting to make its mark with this new personalized protein powder concept. There aren't a huge amount of Gainful protein reviews online as yet. But so far so good, they seem to be doing a stellar job, and are gaining popularity as customers find their product.
What are customers saying?
Most are excited by the concept of being able to get a personalized protein blend. The following are a few comments I've come across:
"I love that it has minimal sweeteners and additives"

"This is hands down the best protein powder I've ever tried!"

"Mixes easily"

"Tastes great and not gritty at all"

"Price is comparable to other protein powders I've purchased"

"Website is seamless and easy to use"

"Excellent customer service"
Most people love the taste but there will always be a few that don't. Users are, for the most part, very positive about the texture and flavor. Gainful protein powder IS still just protein powder though. It's never going to taste like a McDonald's milkshake! Personally, I think there are enough positive comments to warrant at least giving it a try.
Post-workout? Breakfast replacement? All the above? We've got your back. Personalize your protein powder. Save 10% with code TAKE10OFF!
The main gripe that people had in the early days was that there weren't enough flavors (they started out with just chocolate and vanilla. Now there are 6 awesome flavors available so you can have a different flavor every day of the week!
Key Takeaways Before you Buy Gainful Powder
What does it taste like?
Is Gainful protein powder superior to other top-shelf powders? Probably not – a protein shake is what it is – a protein shake. They're very nice and definitely taste good quality though. The majority of users like the taste, many love it, and a few (very few) don't at all. That's the same for any protein powder on the market.
Is there a good variety of flavors available?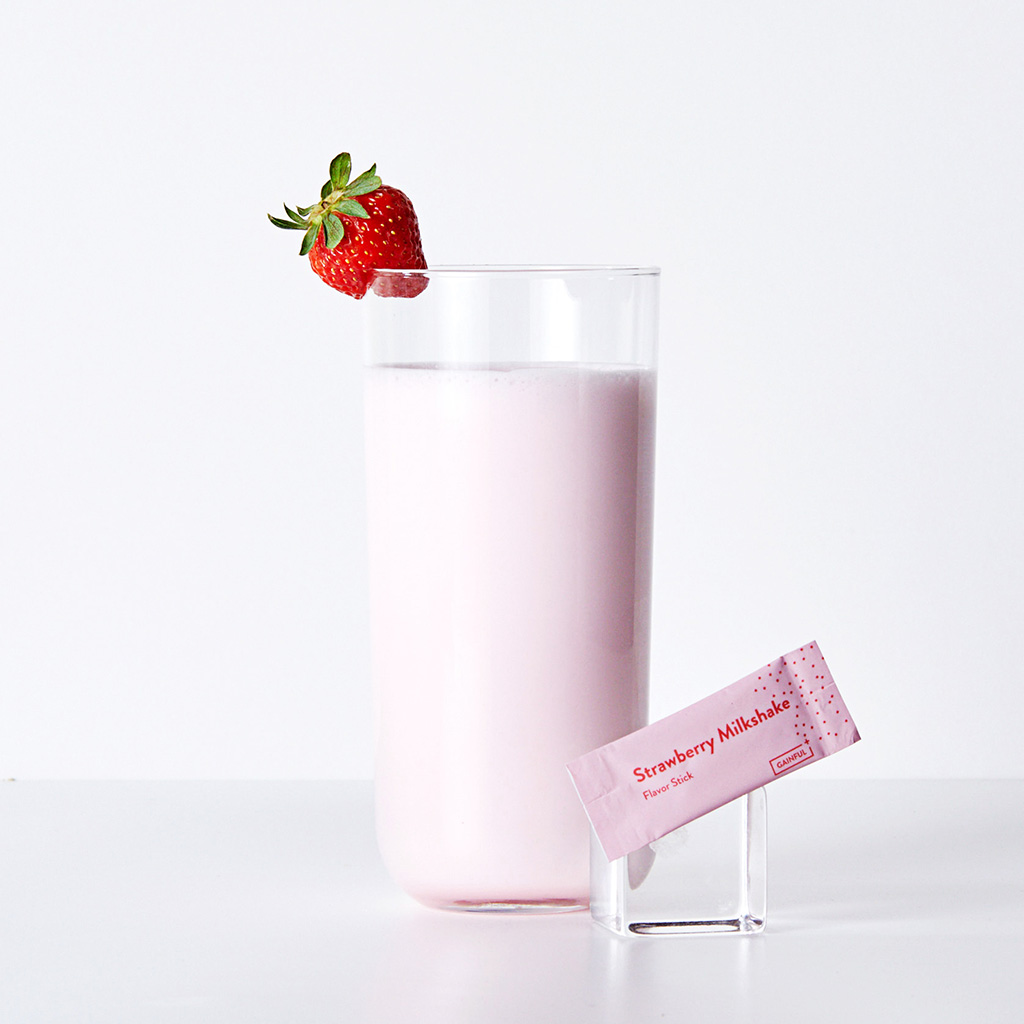 Variety has improved tenfold since the beginning, both in flavors and formulations as the company has grown. Right now there are 6 flavors in the form of flavor sticks (that you can add to your protein) – cookies and cream, caffe mocha, matcha tea, banana split, sea salt caramel and cinnamon bun. The main difference in the formulations is that they are vegan or dairy based powders but there are some ingredients that are added based on your diet and type of workouts you do.
You will find that the vegan ingredients often include Pea Protein, Brown Rice Protein, Tapioca Maltodextrin, Tapioca Dextrose, Natural Flavoring, and Edible Sprinkles.
Dairy-based components will often revolve around Whey Protein Isolate, Whey Protein Concentrate, Organic Tapioca Maltodextrin, Organic Tapioca Dextrose, French Vanilla Flavoring, and Sunflower Lecithin.
All good, clean ingredients that you would want in a high-quality protein powder.
Personalized Protein Powder – I got Keto protein!
The main customization you will get is with the packaging and differentiation of vegan and dairy-based powder. You can also customize for the type of exercise you do, the type of diet you follow etc.
When filling out the quiz I stated that I was on a keto diet for weight loss, and I got MCT Oil Powder and organic stevia added to mine – perfect for my diet. My brother, who lifts weights to build muscle got a different blend with whey concentrate, whey isolate and micellar casein.
Beautiful Packaging
Gainful protein powders get an A-plus for the packing. This powder is the first in the diet industry to come with YOUR name branded on the bag . It will make you feel a little special! It definitely feels like the manufacturers made a special batch just for you.
It's an esthetic bag- sleek with a white backdrop and a small company logo. The bag looks legitimate, professional and beautiful. If one could judge a book by its cover, Gainful Protein Powder would be voted the best in all spheres.
Personal dietician available for FREE
Another cool offering from Gainful is the free consultation service for their customers. As part of the package, users get free access to a registered dietician. Users are encouraged to interact with the professionals to learn about the ingredients and get advice on how to achieve their fitness goals. This is a really useful service, especially if you've got particular dietary needs. The dieticians are very knowledgeable and they answer questions quickly.
Solubility – It mixes well!
The smooth texture of Gainful Protein powder is another thing to like. The consistency makes it easy to dissolve in water and can work as an excellent base for smoothies. It mixes very well.
Free shipping
The product is often shipped to you free of charge. It should be delivered to your place within three business days. The package usually contains a month-long full supply of protein powder. It IS a monthly subscription, so be aware of that (your plan frequency is made very clear at checkout) – however you can change your plan or pause or cancel your subscription easily at any time. There is no return policy for this protein powder (that's normal for a personalized product), but in case of concerns, you can talk to their customer team at (805) 768-4205. If you have concerns or questions the best thing to do is talk to them BEFORE you order so you can get the exact right blend for you.
Excellent customer service
One thing that stands out about this company is that they've got great customer service. Have a question? It'll be answered quickly. A problem with your order? It will be sorted out efficiently. Don't like the taste of the blend you ordered? They'll help you to formulate a blend that tastes better to you. Try them out and you'll see for yourself.
What is the price?
The powder is sold at $1.50 per serving – pretty standard pricing for any decent protein supplement. This price is constant, regardless of the ingredients included in your mix. According to the website, a single serving is between 30-34g. Nonetheless, if your personalized mix does include mass-gain components, the serving might weigh more at no extra cost. Use the following Gainful protein promo code to get a 10% saving:
Use code TAKE10OFF for 10% off!
The bottom line – Is Gainful worth it?
I really like the concept, and I think many other protein powder users will too. There is a gap in the market for personalized protein powder, and Gainful has stepped in to fill this gap. As they grow in popularity I have no doubt there will be plenty of other companies that will jump on the bandwagon to try and provide something similar, but I think right now, the company are doing a fantastic job of providing us with something new and useful.
Gainful protein powder is a nutritious mix of natural ingredients with customization for vegans and non-vegans. The company is ambitious with a platform that is meant to calculate the exact ratio and ingredients that fit your specific lifestyle, gender and fitness goals, and I think the idea execution is awesome. There are always things that could be improved upon though, and I'm sure they will be adding more personalization options and flavor variety as time goes on.
The personalization, packaging and the free (unlimited) consultation with a dietician are unique offerings that I haven't found anywhere else, and definitely make it worth trying! We definitely recommend checking it out!
Want to try the quiz for yourself?
Take the quiz today to find your blend.